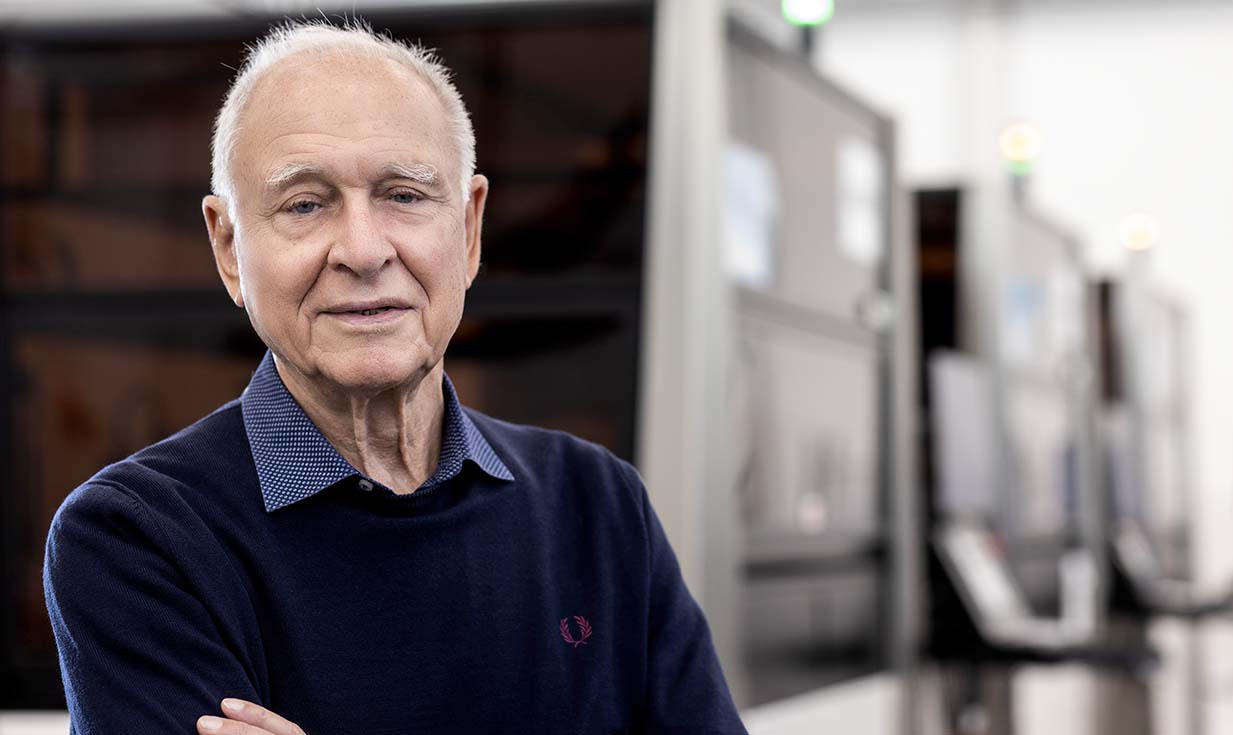 Our history
Technoprobe was founded in 1996 by the passion and entrepreneurial spirit of its founder:
Giuseppe Crippa
1996
Birth of Technoprobe
Technoprobe was founded in 1993 in the garage and attic of the Crippa's family home in Merate (LC). It grew quickly and in no time at all made a name for itself as a company that designed and manufactured highly complex probe cards for the fast-growing microelectronics industry.
Technoprobe is officially founded near Milan, Italy in 1996.
1997
Opening of first headquarters in Cernusco Lombardone
Technoprobe purchases its first building in Cernusco Lombardone (LC) and moves in with about 10 employees. The first nucleus of the company headquarters is created which gradually expands over the following years.
2000
Delivery of the first Vertical Probe Head
Technoprobe produces its first Vertical Probe Head (PH), COBRA needle technology, with 960 needles and a minimum pitch of 240 µm.
2001
Technoprobe France
Technoprobe's first expansion outside of Italy is Technoprobe France based in Rousset (Provence, South of France).
2003
Technoprobe Singapore
As the Asia-Pacific area becomes increasingly strategic for the microelectronics industry, Technoprobe seizes the opportunity to establish a new production facility and service centre in Singapore. Technoprobe Singapore is Technoprobe's second largest factory, employing 120 people at the end of 2019.
2007
First probe card with VERTICAL MEMS technology ever sold on the market
In 2007, Technoprobe receives the "Most Innovative Technology" award at the Semiconductor Wafer Test Conference (SWTest) in San Diego (CA) for presenting a revolutionary manufacturing approach for the construction of probe heads, based on MEMS needles assembled in a vertical configuration.
2007
Technoprobe America
Expansion into the United States, a primary market for technological research and development, marks a significant turning point in Technoprobe's history. Technoprobe America is founded in San José, California, to serve the largest semiconductor industry based in the Silicon Valley.
2010
Technoprobe Philippines
Technoprobe starts its activities in the Philippines with an initial staff of 15 people which becomes more than 200 in the following years.
2011
Beginning of Technoprobe Italy's expansion
Faced with growing market demand, Technoprobe starts the construction of a new factory which is completed in 2013. This new building adds more than 4,000 square metres to the production facility and office areas.
2011
TPEG™ MEMS
The search for new innovative solutions for the production of probe heads results in TPEG™ MEMS, Technoprobe's proprietary product that will become the new industry standard for ultra-small probing wafers.
2014
One of the world's top
Technoprobe becomes one of the world's top Probe Card manufacturers.
2015
Technoprobe Korea
Technoprobe Korea is born: in addition to the production facility, the new location also provides technical support to Korean customers.
2017
New factory for Technoprobe Italy
A new factory is built in Cernusco Lombardone. It stands next to the current building and adds 7,000 sqm to the production and office areas.
2017
World's third largest manufacturer of probe cards
Technoprobe becomes the world's third largest manufacturer of probe cards.
Technoprobe Japan
Technoprobe Japan is founded with a design and service center to serve the Japanese market.
2019
Technoprobe acquires Microfabrica
Technoprobe acquires Microfabrica Inc., a leader in high-volume, micro-scale, additive manufacturing. Technoprobe plans to further invest in Microfabrica to help the company expand its capabilities and capture a large global market.
2019
New Technoprobe repair centre in Taiwan
To further enhance its presence in Asia and the Pacific, Technoprobe opens a repair and assistance centre for Taiwanese customers.
2019
Technoprobe China
Opening of the Chinese factory to provide support to the world's largest market.
2019
World's second largest manufacturer of probe cards
Technoprobe becomes the world's second largest manufacturer of probe cards
2021
TPI Agrate
A new 3500-sqm plant opens in Agrate Brianza to act as a research and development centre for Microfabrica technologies.
2021
Awarded THE BEST Probe Card supplier in the world for 4 consecutive years
For the 4th consecutive year Technoprobe is awarded by its customers as the probe card supplier with the highest score in the VLSI Research Inc Customer Satisfaction Survey.
2021
TPI 5 and the Technoprobe Covid-19 vaccination hub
A new large building is built in Cernusco Lombardone, TPI5.
Due to the pandemic emergency situation, Technoprobe decides to temporarily convert the space into a hub for mass vaccination against Covid-19 in collaboration with ASST Lecco. It is the first company in Italy to open a vaccination hub for everyone inside its premises.
A space of 4300 square metres in which 160,000 doses of vaccine are administered to the local population over the course of six months.
2022
Listing on the Euronext Growth Milan Market
February 15, 2022, marks the first day of trading for Technoprobe shares on the Euronext Growth Milan market, a multilateral trading system organized and managed by Borsa Italiana S.p.A., dedicated to dynamic and competitive SMEs with high growth potential.
2022
Opening of Technoprobe Catania
Technoprobe inaugurates its fourth Italian headquarters – the first one outside Lombardy – in the "Etna Valley" of Catania. This is a new 500 sqm Design Center aimed at enhancing the activities of the teams that design the company's technological solutions.
2022
World's First Probe Card supplier
In 2022, Technoprobe becomes the world's first manufacturer of probe cards.
Source of information: TechInsights Report 2023.
2023
Transition to the Euronext Milan Market
On May 2, 2023, Technoprobe finalizes the transition to the Euronext Milan market, with the aim of increasing visibility in the financial markets and providing the necessary support for the Group's expansion.
The right place to look for a job